The graphite in the Aqua Pencil Lead Pack is 2 mm in diameter and 3.5″ long. There are five sticks safely held in a small tube. The graphite is HB hardness – a lot like the standard #2 pencil. It can write on any slate and Wet Notes
This might also interest you
Aqua Pencil Solo Packs
€

17.50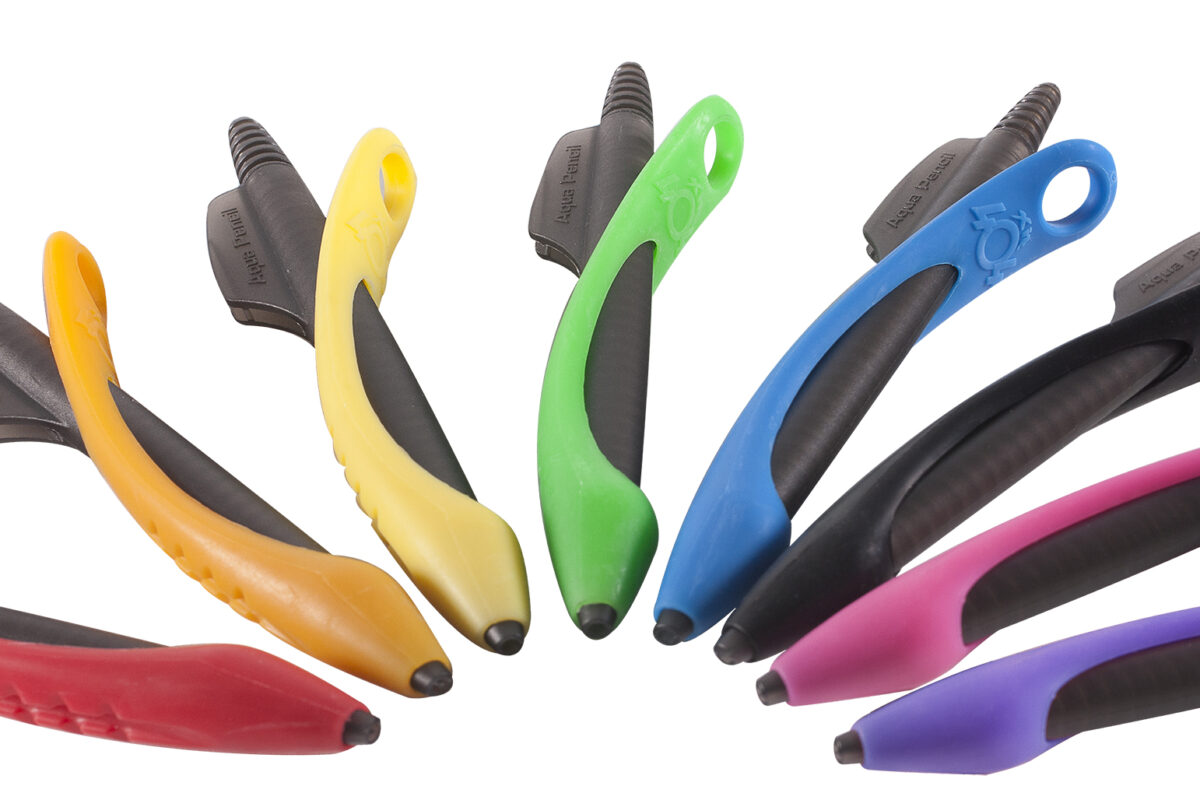 Heb je genoeg van zompige en gebroken houten potloden? Will je aantekeningen maken, schetsen/tekenen of communiceren met je buddy? De Aqua Pencil maakt het je makkelijk onderwater. Ontworpen door duikers die vinden dat Ikea potloden bij de Ikea horen. De Aqua Pencil roest niet, zwelt niet op, en schrijft wanneer je het nodig hebt. Het heeft vervangbare potloodstiften en een handige vorm. DeAqua Pencil is zeer geschikt voor de gemiddelde duiker, duikinstructeur, technische duiker, onderzoeker, schipper, of  iemand die vel in en/of op het water is en graag aantekeningen maakt. Neem de Aqua Pencil elke duik mee en wees voorbereid om je koers te noteren , een onderwater flora of fauna te tekenen om later te identificeren, notities voor of tijdens deco stops, duik stek namen noteren, of gewoon boter-kaas-en-eieren te spelen terwijl je bijvoorbeeld een veiligheidstop uitvoert. Voor schippers is de Aqua Pencil heel handig in combinatie met Wet Notes om bijvoorbeeld je zeilconfiguratie, navigatie, weersomstandigheden, toestand van de boot te noteren. Vogelspotters kunnen zelfs in de meest vochtige omstandigheden (stromende regen bijvoorbeeld) notities maken. De Aqua Pencil maakt gebruik van een simpel  mechanisme om steeds de potloodpunt "aan te vullen". Door aan de achterkant te draaien schuift de potloodstift naar buiten. De stift heeft een diameter van 2 mm , breekt niet makkelijk en is ruim8 cm lang voor voldoende schrijfplezier. De stift is makkelijk te vrvangen wanneer die op raakt. De ergonomische vorm maakt dat de Aqua Pencil makkelijk in de hand ligt zowel met als zonder handschoenen aan. Kies uit een van de acht kleuren, de kleur die het beste bij je past:
Rood
Oranje
Geel
Groen
Blauw
Zwart
Roze
Paars
Inbegrepen is een buisje met navulpotloodstiften.
De Aqua Pencil werkt met bestaande letijes, polsleitjes en onderwater papier zoals Wet Notes.
More info
Aqua Pencil Starter Kit
€

30.00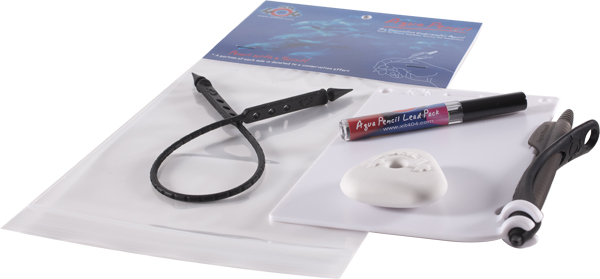 De Aqua Pencil Starter Kit bevat het Aqua Pencil vulpotlood geschikt voor onderwatergebruik met:
Snoer (tether)
Driehoekige gum
Buisje met potlood stiftjes
Leitje met speciale bevestigingplek voor de Aqua pencil, voorzien van verschillende gaten om te bevestigen aan je uitrusting. Dit is de volledige kit om mee te starten. The Aqua Pencil is in 8 kleuren verkrijgbaar:
Rood
Oranje
Geel
Groen
Blauw
Zwart
Roze
Paars
Het leitje is speciaal gemaakt voor de Aqua Pencil en bevat een bevestigings punt voor de Aqua Pencil. De punt van de pen is hier beschermd en het bevat een gripgroeve om de Aqua Pencil makkelijk te vast te klemmen. Het bevat drie gaten, twee rond en één langwerpig, om te koppelen aan bevestigingsmiddelen voor aan je duikuitrusting. Het leitje is ongeveer 10 cm breed bij 15 cm hoog. (4″ x 6″)
More info
2nd Rate Slate
€

15.00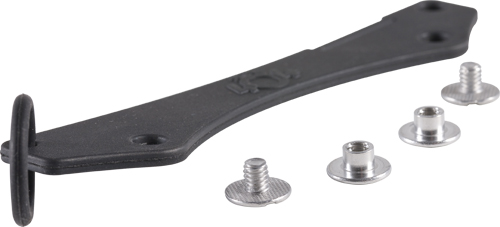 De rubberen 2nd Rate Slate is gemaakt speciaal voor dunne instructeursleitjes. Het is flexibel genoeg om dunne leitjes (minder dan 1,6 mm) niet te doen breken terwijl het stug genoeg is om je Aqua Pencil vast te houden. Maak simpelweg twee gaten in je leitje gebruikmakend van de 2nd Rate Slate als sjabloon en een standaard perforator. Bevestigingsschroefjes zijn inbegrepen. Je kunt de 2nd Rate Slate bevestigen aan allerlei leitjes zoals de vaardighedenbeoordelingsleitje, onderzoeksleitjes, rif-inspectieleitjes of je instructeursleitjes.
More info
Add to cart
Aqua Pencil Triangle Eraser
€

5.50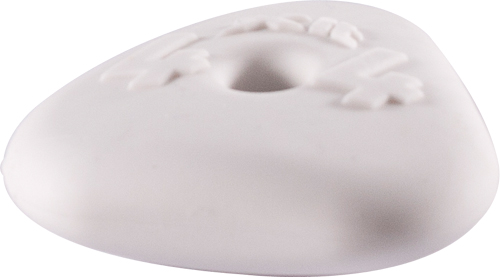 The Aqua Pencil Eraser is a hard white eraser. It is used to remove the graphite from the slate. The Aqua Pencil Eraser can erase either wet or dry. We have customized it into an ergonomically triangular shape. It has our logo on it as well as a hole in the middle. You can easily slip it onto our Aqua Pencil Tether.
More info
Add to cart